With so many devices littering our homes these days, it's easy for us to find ourselves in the predicament of sifting through a box of remote controls just to change the volume on the flat screen. While it might not be the biggest deal to a lot of people, it can certainly get in the way of your leisure time if you don't have all the features you want accessible at an arm's reach, with the first reach you make. Not to mention how frustrating it gets after the first hundred times. So I've taken the time to scour the web to find a great universal remote which should take care of all your needs.
Before you take my word for granted, consider that all home theaters and equipment (for the most part) are different, and universal remotes, despite the name, are by no means built to support all pieces of technology and brands. Some remotes use IR (Infrared), some use RF (Radio Frequency), and there's some that utilize Bluetooth technology, so you need to figure out which technologies your system uses.
Enter the Logitech Harmony series. While there are a few different models in this line to address your needs, I chose to highlight the Harmony Ultimate One. It retails for $249 and offers an LCD screen on the remote to provide the user with more functionality than solely physical buttons can. It is an IR remote which is advertised as compatible "with over 270,000 models from more than 6,000 brands," so chances are it supports all or most of the devices in your entertainment center. Visit their site to check the list of supported devices.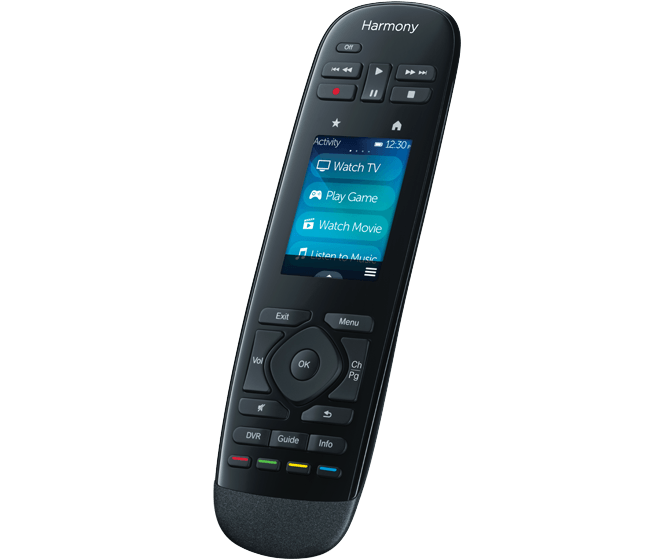 The One possesses the ability to program several functions and devices to a single button. For example, the "Watch TV" icon on the touch screen: when you press this, your remote can be programmed to simultaneously turn on your television, cable box, and sound system to start watching as quickly as possible at the preferred settings. More features are available and the set-up can be done online and Logitech claims it only takes a few minutes. If you lose or break your remote, you can also sync the same settings to your new one instead of having to completely reprogram it.
There are more remotes in the Harmony series such as the Harmony 650 and 350 ($69 and $49 respectively) which are more than likely able to handle the needs of your home entertainment system, so remember to double-check your equipment's needs before making a commitment to the One.
The One also comes equipped with a rechargeable battery and packaged with a charging cradle. So there's not going to be any more precious relaxation time lost searching in between the cushions for your remote or scavenging for batteries from your other devices. Which I think we can all agree are features that are much appreciated by all. I advise you to do some shopping for yourself, and whichever remote you end up choosing, just make sure it is compatible and a great value so it can offer you a little more piece of mind in your entertainment hub.